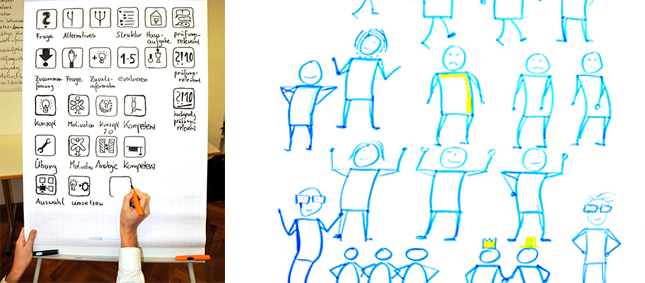 Why it's worth it, To learn visualization?

Participants of our courses work as trainers or coaches, are employees of companies, Professors or teachers, advice in the financial sector or coming from IT companies.
As varied, as the range of these areas, the possibilities, provides the visualization in the application of the relevant work everyday.
There are only a few symbols, which are multi-discipline course. Häufiger aber bedarf ein spezifisches Arbeitsumfeld auch einer eigenen Bildsprache.
And not only that: also in the way, with which medium visualization is used, differs from case to case. The classic flip chart is not always necessarily drug of choice.
All this is very exciting and the participants can learn a lot from each other. The "how" stands in the foreground. Because visualization is always about the reduced image,de, is the learning of drawing easy. Auch ist nicht das "schöne" Bild an sich die Zielsetzung, sondern dass durch Bild-Text-Kombinationen Gedanken und Abläufe sichtbar gemacht und dadurch leichter (With)can be shared.
In the 360 Degree tour above you get a good impression of a training situation with us. Neben gut durchdachten Lerninhalten liegt uns der praktische Nutzen für Sie und eine angenehme Arbeitsamtmosphäre besonders am Herzen.